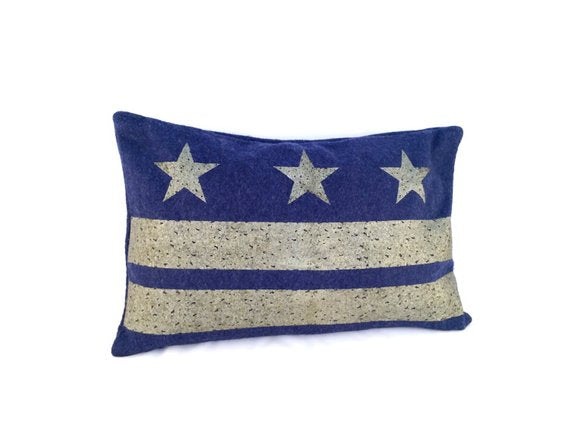 Fritz & Fräulein
Washington D.C. Flag Pillow - Navy Blue Wool + Champagne Ink
• one 12"x18" pillow cover in navy blue wool (also available in charcoal, olive green and natural organic linen)
• sustainably made from repurposed wool military blankets
• hand silk-screened with a distressed Washington D.C. flag in a champagne metallic
• hidden zipper closure in matching color at the bottom of each pillow cover
• 80% wool, 20% synthetic
• dry clean / or machine wash cold; lay flat to dry; iron on reverse only.
• Handmade in the USA in our Brooklyn, NY studio
Show your D.C. pride with these gorgeous, wool District flag pillows screened with the Washington D.C. flag in a rich, champagne metallic. The perfect gift for those hailing from the D.C. area or want a handcrafted memento to remind them of our nation's capital. After spending large amounts of time there over the years, I'm personally a huge fan of D.C. (but not of tourist spoons and the like), so this is my version of a more refined gift, paying homage to this great city.
---
More from this collection